CASE STUDY: B2B HEAVY EQUIPMENT RENTAL
Constructing a new path to growth
A heavy-equipment rental company in the United States became one of the largest in its industry through a series of acquisitions. But despite its expanded reach and coverage—now hundreds of depots and branches nationwide—the company needed help reigniting organic growth.
Several geographic and sales regions routinely underperformed, and the company trailed industry averages in both equipment utilization rates and rental revenue per unit. Disparate, unconnected and insufficient data led to inaccurate forecasts and targets, as well as inconsistent pricing. High turnover in the sales organization only served to increase the challenges.
Senior leaders knew that solving these issues would require a holistic, cross-enterprise approach. They wanted to fully understand demand for each local market served—and connect that demand with their rental inventory and pricing models—so they could uncover growth opportunities, improve margins, increase efficiency and optimize the business. They asked r4 to help.
a new foundation for the business
r4 created a model in which every B2B customer or prospect was rated based on unique attributes. The r4 Cross-Enterprise Management (XEM™) Engine then cross-referenced each rating with revamped micro-demand forecasts for construction activity within each local market to create a series of recommendations for the sales team.
These recommendations were fed automatically into the company's existing sales-automation system, without requiring any new software or professional services to implement. Direct integration also eliminated the need for additional training—important to company productivity because of the high percentage of limited-tenure associates on the sales team.
With the system directly providing customer and prospect ratings, each salesperson was now "guided"—quickly, easily and automatically—to focus on opportunities and accounts that had the highest profit potential and were most likely to convert to new business right away.
now The Price is right
But targeting the right opportunities was only half the battle. Pricing had been inconsistent across branches and regions. For example, a significant percentage of branches were setting their rental prices too high—and, not surprisingly, they also had much lower than average utilization rates for their equipment. Even more branches were setting their prices below company-recommended floors—and they were missing out on opportunities to obtain higher yields from equipment already committed at these too-low rates. Both factors lowered revenue and margins considerably.
The r4 XEM Engine solved this challenge by analyzing industry pricing benchmarks and company inventory levels at each location, and cross referencing that data with the demand forecasts for construction activity in each market. Based on this data, the XEM Engine generated weekly pricing recommendations for each product at each location.
Business Impact and Real Results
Armed with the right target opportunities, sales associates using recommendations from the r4 XEM Engine delivered breakthrough results in just six months.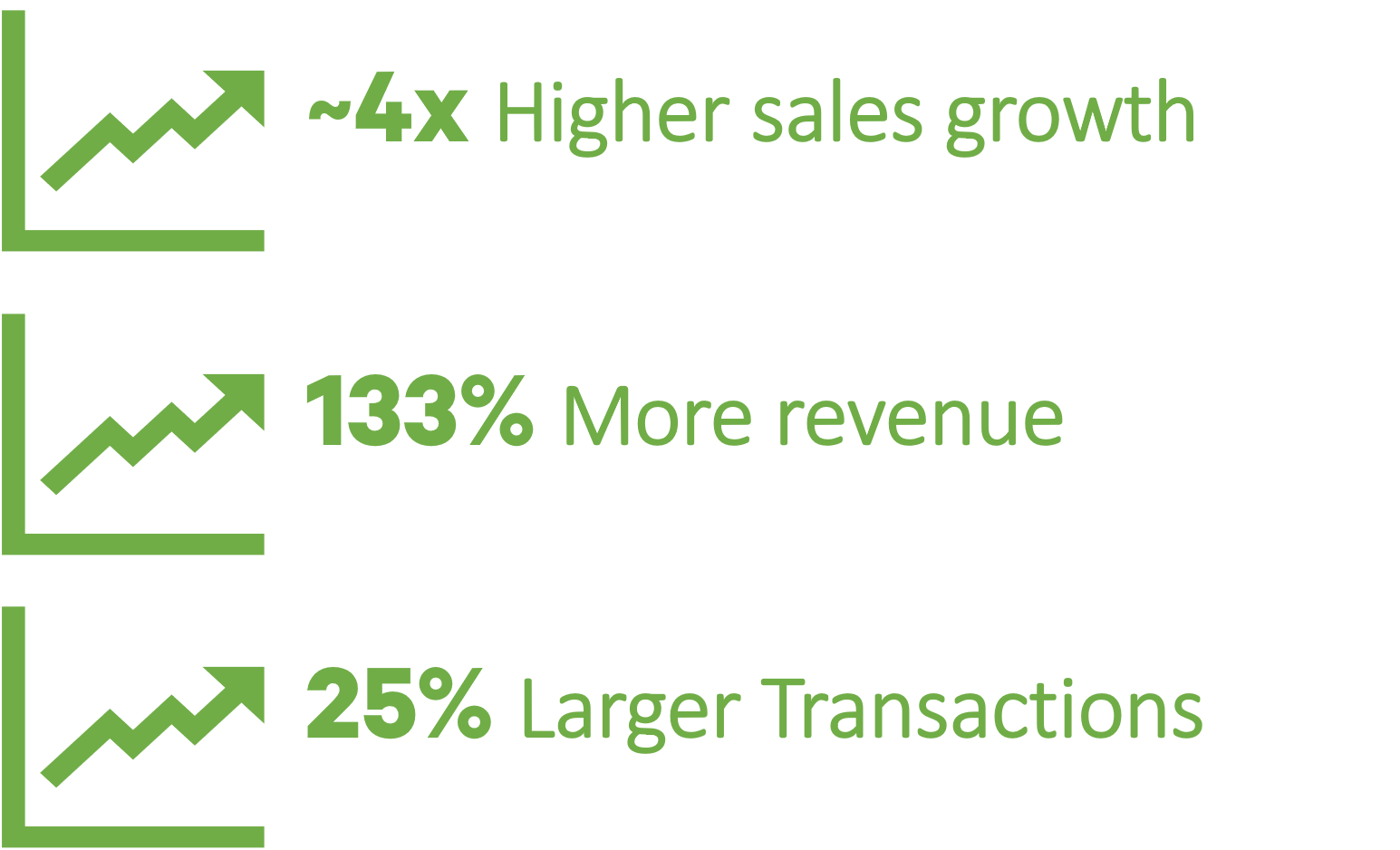 In addition, pro forma analysis indicated that once implemented across the company, pricing recommendations from the r4 XEM Engine would have provided (on an annualized basis) more than 300 additional basis points in margin.
The algorithms in the r4 XEM Engine have been learning from the company's results. Continuous machine learning also enhances predictive accuracy, so that recommendations and results continue to improve—without any human intervention.
By embracing and implementing a holistic, cross-enterprise approach through XEM, the company was able to solve its business challenges, exceed expectations for revenue and profitability growth, and transform its approach to management and operations.