See the future. Act today.
In a world of fragmented and rapidly changing markets, you need an AI system that predicts opportunities for growth, recommends actions, and learns from results. You need your data to work together, joined with external data, quickly. You need a business app that makes your people and systems work smarter and faster.
AI operationalized for business users.
Better decisions and faster actions for speed and growth.
r4 Enterprise AI Cloud Platform
Unifies Internal and External Data In Days
Models Your Market to Find Growth Opportunities
Optimizes Actions Through Existing Systems
Applications cross-enterprise.
Consumer Microtargeting
Contextual Recommendation
Personalized Promotion
Churn Prevention
Unified Loyalty
Sales & Operating Planning
Predictive Ordering
Optimal Replenishment
Predictive Logistics
Distributed Inventory
Location Targeting
Localized Assortment
New Product Introduction
On-Shelf Availability
Optimized Promotion
Working at scale within and across functions.
Dynamic AI Segmentation for True Personalization
Avg 10% Sales Lift for Discount Retailer
Highest-potential consumers to target each week, with the right product and right offer.
Unified Demand Signal for Synchronized Supply Chains
90%+ Forecast Accuracy for CPG Manufacturer
Replenishment forecasts for 18 billion SKU/store combinations daily.
Hyperlocal Buying Patterns for Store Optimization
$350MM New Sales for Global Beverage Leader
Optimal products for hundreds of thousands of SKUs at a million locations.
Proven results across industries.
For Cross-Enterprise Management.
A new type of AI engine that continuously adapts to changing markets and aligns your business to a unified demand signal.
Improves speed and precision within functions and synchronizes across them.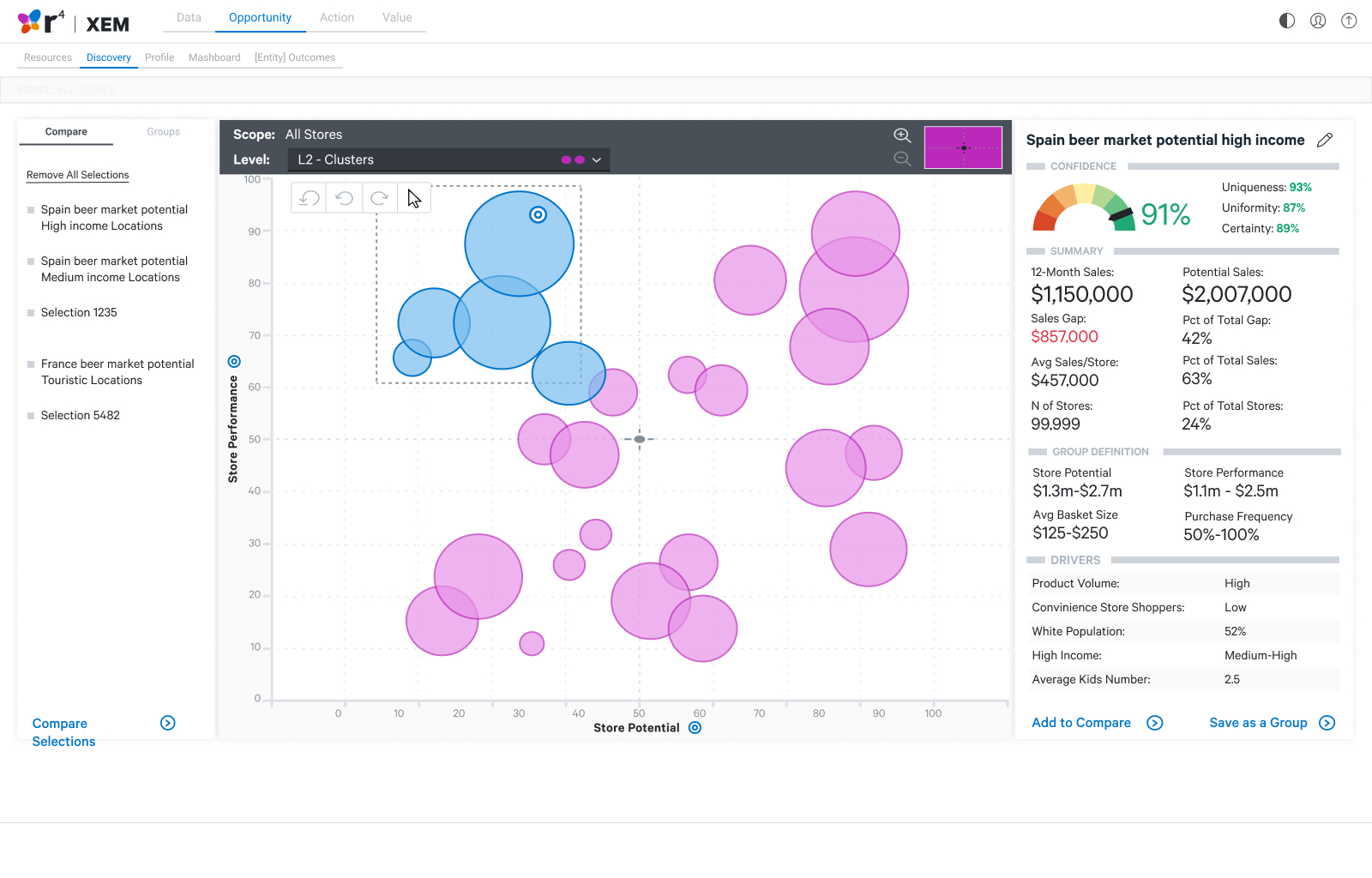 From the founders of priceline, built on decades of yield management science and experience.
Delivering transformative, continuously learning capabilities to business users for speed, precision, and certainty of success.
See the future. Act today.
Forever competitive advantage.
For those who get there first.
Learn how r4 Enterprise AI can drive speed and growth for your business.