CASE STUDY: CONSUMER GOODS/SELF-SERVICE RETAIL
Thirsting for New Growth
A major consumer-beverage provider needed to revamp its food-service business, which included fountain products as well as bottled beverages for vending machines and retail coolers. Its portfolio had more than 700 product SKUs and millions of transaction data points. The company was generating more than $300 million in annual sales from more than 16 million consumers. But revenue was dropping by double-digit percentage points—for many reasons.
Because consumption data wasn't being captured effectively, the company lacked the insights needed to rapidly address shifting consumer preferences. Inventory levels, delivery schedules, demand patterns and maintenance were misaligned and managed in different parts of the business. Existing equipment frequently malfunctioned and couldn't take on new challenges like sensing demand in real time. But high capital costs meant outright replacement wasn't an option for this low-growth, low-margin business.
Beverages were being placed and restocked based on one-size-fits-all planogram lists, a best guess by the driver, or whatever inventory was on the delivery truck—not necessarily what the location's customers wanted or were buying. Popular beverages tended to be out of stock, while ones with less demand were overstocked and languished.
Customers were disappointed, revenue was being lost, inventory turns were too low, operating costs were too high, and profits were down. The P&L owners determined they needed to take a holistic, cross-enterprise approach. One that would enable them to fully understand market demand—and connect that demand with their supply chain—so they could uncover growth opportunities, reduce operating costs, improve margins, and optimize and modernize their business.
A SMART NETWORK OF CLOUD-CONNECTED EQUIPMENT
To support the business's need to understand demand in real time, r4 started by helping the company turn this installed base of equipment into a smart network of intelligent IoT sensors, connected by the cloud. With this new connectivity, r4 combined real-time demand data with other data from across the company (including production, supply, sales, products, deliveries, sites and equipment)—as well as external demographic and location-related data—to create a unique, client-proprietary AI model of the company's business and markets.
The r4 Cross-Enterprise Management (XEM™) Engine then applied this model to uncover, at a location-specific level, previously unknown opportunities to improve business performance. That enhanced real-time understanding of demand delivered numerous positive P&L impacts:
Sales volume, revenue and market share increased as a result of:

Optimizing the selection and placement of products for each location
Providing the right new products for locations that previously hadn't stocked them
Eliminating out-of-stock situations
Increasing availability and reducing downtime by remotely monitoring equipment
Operational costs decreased and efficiency increased as a result of improved forecasting accuracy, which in turn drove:
Optimization of delivery operations and warehouse inventory levels
Resupplying locations less frequently and more efficiently
Streamlining supply-chain operations
Lowering energy consumption, and reducing maintenance and support issues, by remotely managing equipment
In addition, the company avoided potential additional costs because the recommendations provided by the r4 XEM Engine were automatically delivered for implementation through existing systems and processes across the company. The company's intelligent routing application now put the right SKUs on the right trucks on the right days, while automated loading and delivery instructions were sent to warehouse staff and drivers over the handheld devices they were already using. As a result, the company went from using large trucks that returned to the warehouse half full to using small trucks that came back empty.
BUSINESS IMPACT AND REAL RESULTS IN ONLY A YEAR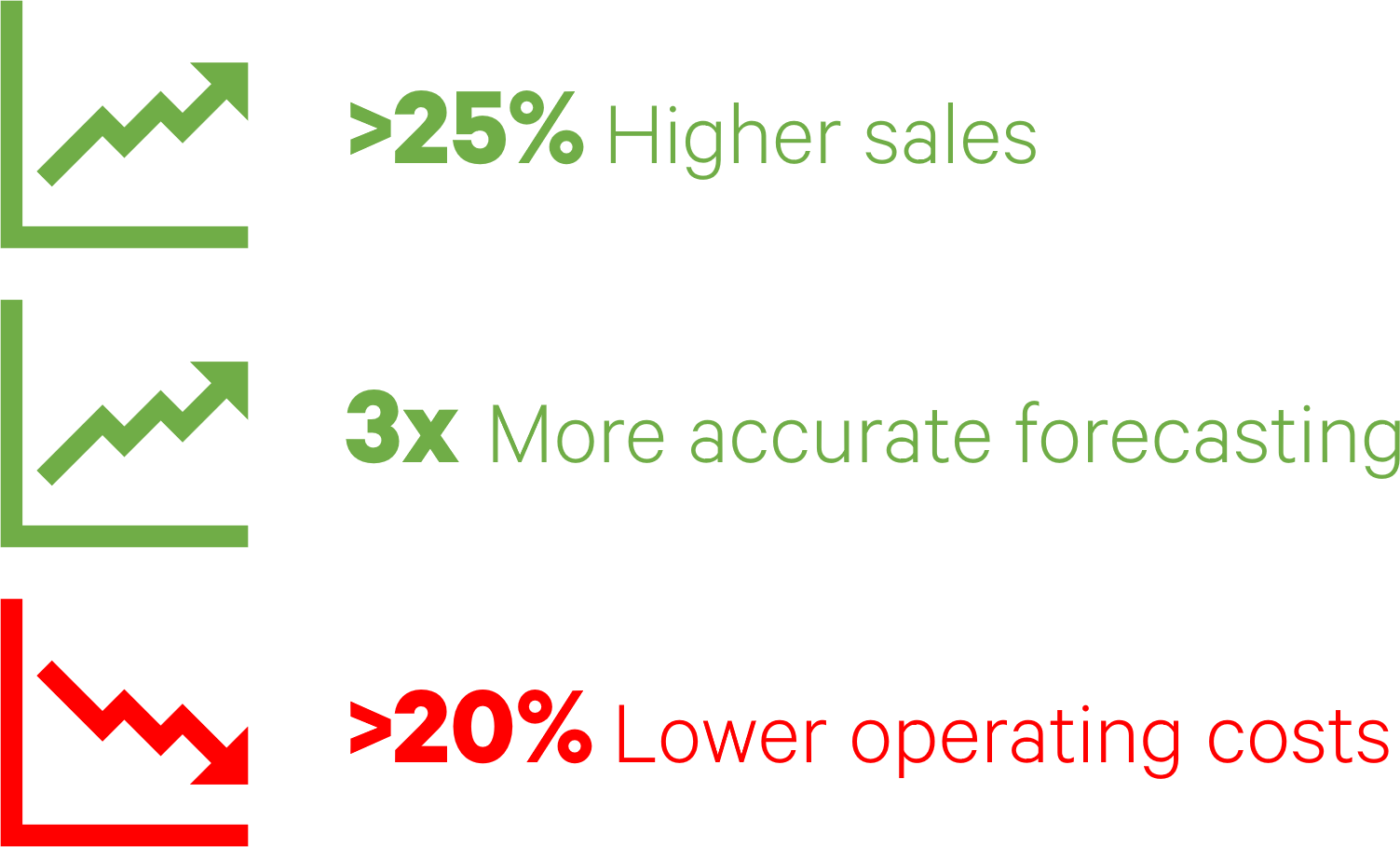 The algorithms in the r4 XEM Engine have been continuously learning from results. Continuous machine learning also enhances predictive accuracy, so that results continue to improve – without any human intervention.
Just one year after deployment, the r4 XEM Engine has transformed the way the company is managed. By embracing XEM, the business has been able to exceed expectations for growing new revenue, lowering operating costs, increasing profitability, and developing new competitive advantages. These results from the initial market also drove a decision to roll out the solution globally.
Creating new competitive advantages
By applying Cross-Enterprise Management from r4, this consumer-beverage provider unlocked capabilities that further differentiated it from the competition, including:
Micro-targeted product-mix recommendations
Accurate real-time inventory monitoring,
by location
Inventory selection, order fulfillment and delivery routing based on real-time demand
Targeted real-time offers delivered directly to smart vending machines, as well as a loyalty program mobile app
Dynamic pricing