Time for Tech to Drive Change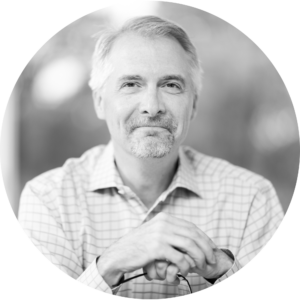 by David Tatge, VP Client Solutions
It is long overdue for us as citizens, and as technologists, to make health, safety, and well-being in the Black community real priorities. In recent years, we have been the targets of "alternative facts" distancing us further from objective truth, but let's recognize and call them what they are – propaganda. We now have to face actual facts in these matters.
We are equipped with the tools we need to do the work to understand and address persistent problems in the treatment of Black Americans, identify areas of high risk in the midst of the major upheaval of a lethal pandemic, and inform private sector decisions and public sector policy both in our current circumstances, and in making what we as a citizenry want our future to look like.
The Post-Civil War Origins of Systemic Racism
Unequal treatment under the law, and the social manifestations of that law, has created a persistent and systemic suppression of rights and opportunity, since Reconstruction (1863-67) ended, and "Redemption" (1873-77) resulted in the Compromise of 1877, with Northern Republicans agreeing to home-rule in the South. The Republican Party in the North agreed not to interfere in the South's state-level activities, and that white Democrats would rule. Southern Democrats pledged that they would "recognize the civil and political equality of blacks." In reality, the South imposed restrictions and exclusions personified by the Jim Crow laws. As W. E. B. DuBois said, "The slave went free; stood a brief moment in the sun; then moved back again toward slavery."
The Current State
Despite advances during the Civil Rights Movement of the 1960s, here's where we are now:
"The median black American will be as just as far behind their white counterpart in 2017 as they were in 2000 in terms of income, wealth, unemployment, earnings, the risk of incarceration, and many measures of health." (Brookings)
Income inequality:
"As of the last quarter of 2019, the median White worker made 28 percent more than the typical Black worker…" (inequality.org, Bureau of Labor Statistics) "In 2000 the median black household had an income that was 66 percent of the median white household income. In 2015 that figure was 59 percent." (Brookings)
Wealth:
"Between 2007 and 2013, the net wealth of the median black household fell from 10 percent to 8 percent of median white household wealth… the median white household now has a net wealth 13 times greater than the median black household." (Brookings)
Housing:
Housing is an especially important driver of wealth, especially among middle and lower class households. Without wealth derived from home ownership, wealth is especially difficult to build. "Structural racism in the U.S. housing system [driven in large part by federal and local government policies] has contributed to stark and persistent racial disparities in wealth and financial well-being, especially between black and white households. In fact, these differences are so entrenched that if current trends continue, it could take more than 200 years for the average Black family to accumulate the same amount of wealth as its white counterparts." (Center for American Progress)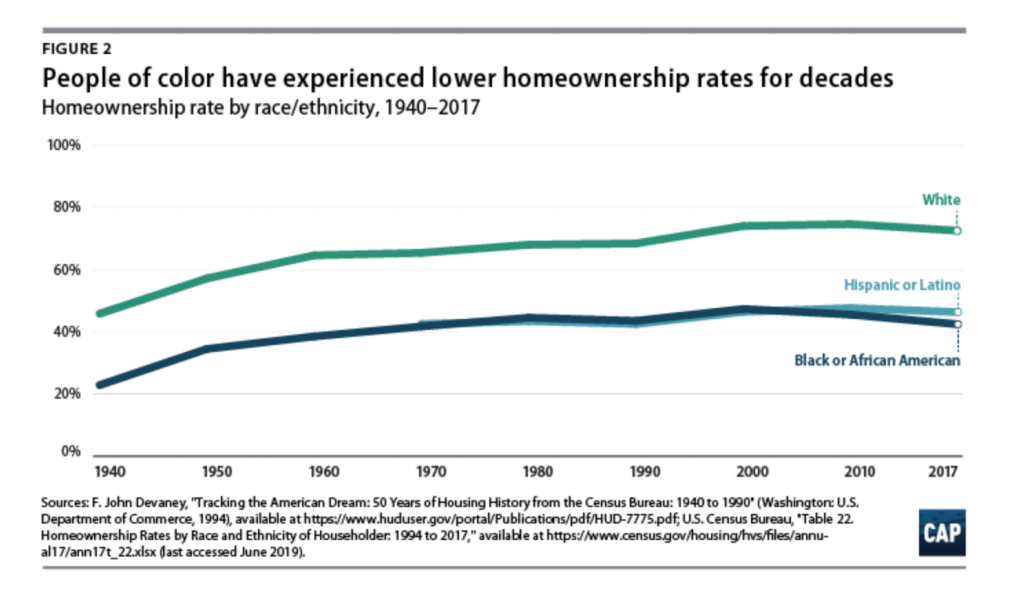 Source: Center for American Progress
Employment:
"…in each of these [10 largest black-majority] cities, the black unemployment rate is 3.9-10.8% higher than that of white residents. Black residents of Atlanta and New Orleans experience unemployment rates of 11.5% and 11.3% respectively, figures more than five times larger than the white unemployment rates of 2.5% and 2.3%. In Macon-Bibb county, Ga., the black unemployment rate (11.5%) is quadruple the white unemployment rate (2.7)." (Brookings blog)
Upward mobility:
"…black children born into middle-income families are twice as likely to be downwardly mobile as middle-income whites." "People living in areas with higher rates of poverty have worse outcomes across a range of social and economic measures. From sidewalks to social capital, differences in safety and neighborhood quality lead to differences in outcomes… Children in poor families that were able to use a voucher to move to a low-poverty neighborhood saw a 16 percent increase in college attendance and were much less likely to become single parents, compared to a control group; those who moved earned 31 percent more in their mid-twenties." (Brookings)
Healthcare:
"Black people simply are not receiving the same quality of health care that their white counterparts receive, and this second-rate health care is shortening their lives." (American Bar Association) Higher arrest rates and longer sentences have crushing public health impacts on Black communities. Furthermore, "Crowded living conditions in prisons increase transmission of infectious disease such as tuberculosis, viral hepatitis, and sexually transmitted diseases. When prisoners are released, they bring a higher incidence of disease back to the detriment of the entire community's health." (Brookings)
Education:
"…the wealthiest 10 percent of U.S. school districts spend nearly 10 times more than the poorest 10 percent, and spending ratios of 3 to 1 are common within states." (Brookings). In secondary education, significant disparities persist in funding (predominantly through local real estate taxes, directly related to local levels of property values, homeownership rates and wealth), access to resources, and life outcomes. The debt burden from college loans is also higher for minority populations. (Science Direct). "In K-12 disciplinary matters, black students are nearly 4 times more likely to be suspended than their white counterparts. (CNN/DoE)
Voting rights:
To protect minority populations from voter suppression, the Voting Rights Act of 1965 "required states and local jurisdictions with a historical pattern of suppressing voting rights based on race to submit changes in their election laws to the U.S. Justice Department for approval." But in a June 2013 ruling in the case, Shelby County v. Holder, the U.S. Supreme Court overturned the core of the Voting Rights Act, releasing states and local governments with histories of voting suppression from Federal oversight of changes to their election laws. (Carnegie) As a result, local governments made numerous decisions to establish polling places further from prominently Black neighborhoods than from white communities. States also passed new requirements for identification that made it more difficult for minorities to prove their legitimate eligibility to vote. Their voices are not heard, and their needs are not met.
Criminal justice:
At the local, state and Federal levels, there are major disparities in incarceration rates.
Source: PrisonPolicy.org
There is significant disparity in the severity of sentencing as well. Drug use among Blacks and whites is similar, but the incarceration rate for drug arrests among Black Americans is over 5 times higher than whites. (NAACP)
Policing:
There is a major difference in arrest rates, and it has long-lasting effects. "Once individuals become involved with the criminal justice system, stigma can negatively impact their lives, "…including: difficulty obtaining an education, difficulty finding employment, recidivism rates, marital status, and socioeconomic status (PraI et al., 2016)." These consequences also have wide-ranging impacts on families and communities (Kamalu, Coulson-Clark, & Kamalu, 2010), including "relational conflicts, increased community rates of unemployment, inability to vote, contraction of infectious diseases, public benefits, and welfare dependence (Hamil-Luker, 2008). (Schleiden, et al, as cited in Prison Policy) And then there is the ultimate disparity. "Black men are about 2.5 times more likely to be killed by police over the life course than are white men." (Edwards, et al, as cited in Prison Policy)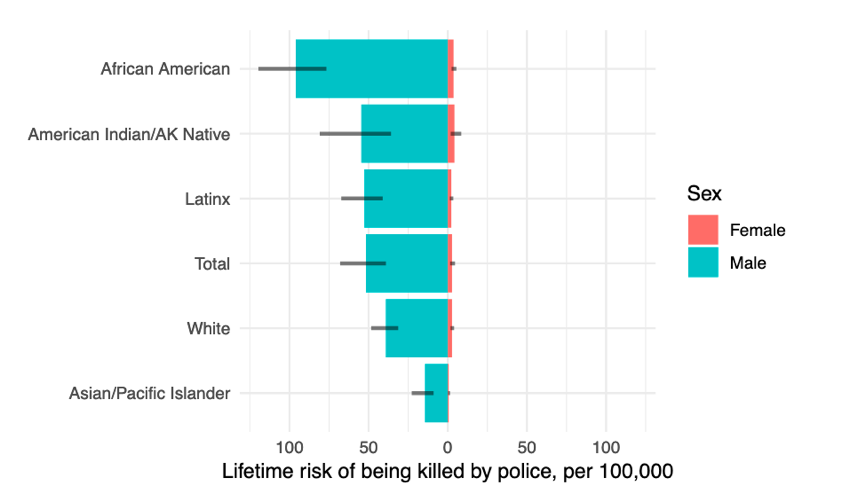 Source: PrisonPolicy.org
A Confluence of Events
Two concurrent shocks to the system have altered our lives, our ways of thinking, our experiences. One hopes it changes our perspective, and our focus on remediation.
1. COVID-19
A once-in-a-century pandemic is killing Black Americans at double the rate of the total population. Predominantly black neighborhoods and communities are disproportionately affected, both by the virus itself, and the seismic economic disruptions that have resulted.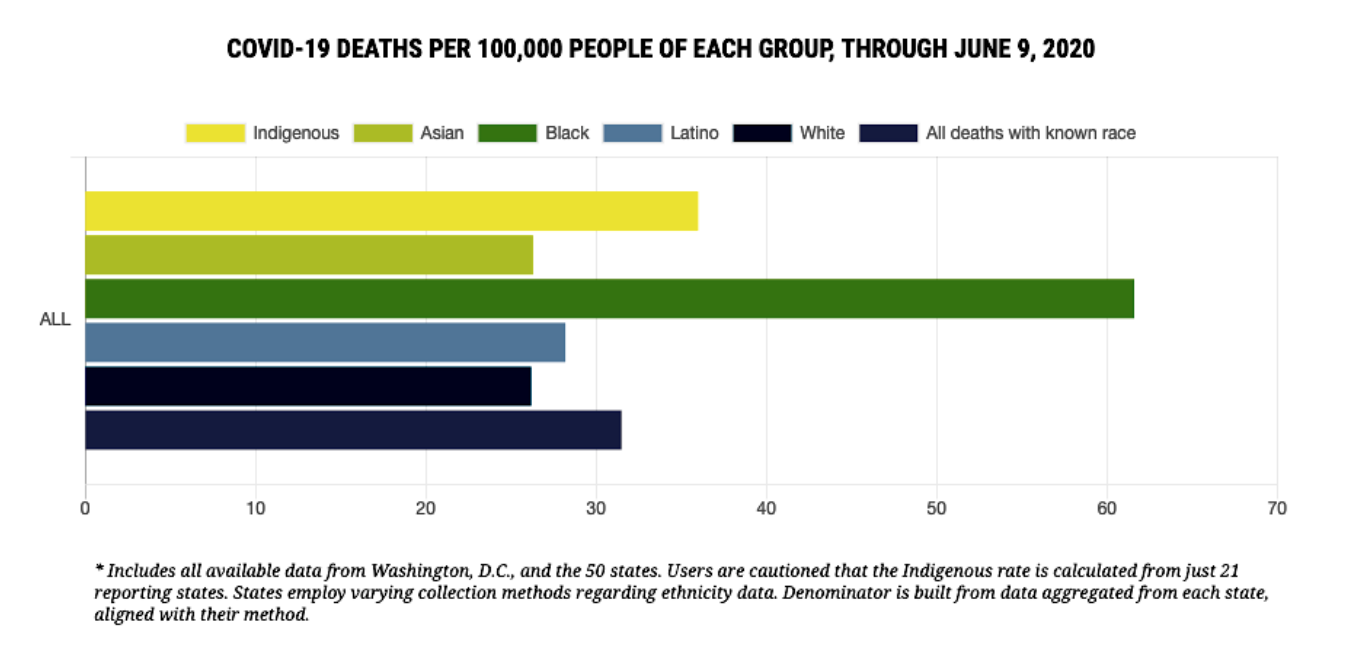 Source: APM Research Lab
COVID-19 death rates among Black Americans "are most dramatically higher in the District of Columbia (6 times as high), Kansas (5 times), Wisconsin (5 times), Michigan (4 times), Missouri (4 times), New York (3 times) and South Carolina (3 times)… Put another way, if they [Black Americans] had died of COVID-19 at the same rate as White Americans, at least 14,400 Black Americans… would still be alive." (APM)

Note: These are the top 5 states
Source: APM Research Lab
As the Yale School of Medicine's Dr. Marcella Nunez-Smith points out, "For many people, physical distancing is a privilege. If you live in a crowded neighborhood or you share a household with many other people, we need to give messaging specific to those conditions. If you need to leave home for work every day, if you need to take public transportation to get to an essential frontline job, how can you keep safe?" (APM)
amfAR, the Foundation for AIDS Research, analyzed county-level outcomes. "Their analysis shows that while disproportionately black counties account for only 30% of the U.S. population, they were the location of 56% of COVID-19 deaths. And even disproportionately black counties with above-average wealth and health care coverage bore an unequal share of deaths."
According to the CDC: "For many people in racial and ethnic minority groups, living conditions may contribute to underlying health conditions and make it difficult to follow steps to prevent getting sick with COVID-19 or to seek treatment if they do get sick.
Members of racial and ethnic minorities may be more likely to live in densely populated areas because of institutional racism in the form of residential housing segregation. People living in densely populated areas may find it more difficult to practice prevention measures such as social distancing.
Research also suggests that racial residential segregation is a fundamental cause of health disparities. For example, racial residential segregation is linked with a variety of adverse health outcomes and underlying health conditions.
Many members of racial and ethnic minorities live in neighborhoods that are farther from grocery stores and medical facilities, making it more difficult to receive care if sick and stock up on supplies that would allow them to stay home.
Multi-generational households, which may be more common among some racial and ethnic minority families, may find it difficult to take precautions to protect older family members or isolate those who are sick, if space in the household is limited.
Racial and ethnic minority groups are over-represented in jails, prisons, and detention centers, which have specific risks due to congregate living, shared food service, and more."
Finally, evidence gathered prior to the pandemic showed that health care providers tend to be less attuned to the needs of black patients, resulting in poorer outcomes. (Pew)
2. The Killing of George Floyd and Breonna Taylor
The most recent of the thousands of Black Americans killed by law enforcement officers in recent years have sparked protests and calls for reform across the US. These protests have shined a light on what Black Americans have known for many decades – you are not safe. The increasing popularity of training imbued with a warrior mentality, combined with more firepower have resulted in an ever-increasing bias toward violence. A 2018 National Academy of Sciences study found that militarized police units in the United States were more frequently deployed to communities with large shares of Black Americans, even after controlling for local crime rates. (PNAS)
That militarization of local police departments, first in the late 1960s with the Omnibus Crime Control and Safe Streets Act of 1968, into the 1970s with the move toward heavily equipped SWAT teams, was amplified during the 1990s with the Department of Defense's 1033 program. The program, which President Obama attempted to limit, but President Trump has expanded, "allows local law enforcement agencies to receive excess Department of Defense equipment… because it was no longer useful to the military." Over 8,000 departments have taken advantage of the 1033 program to acquire "more than $6 billion worth of military equipment such as night-vision goggles, machine guns, armored vehicles, bayonets, grenade launchers, and military aircraft." (Koch Institute)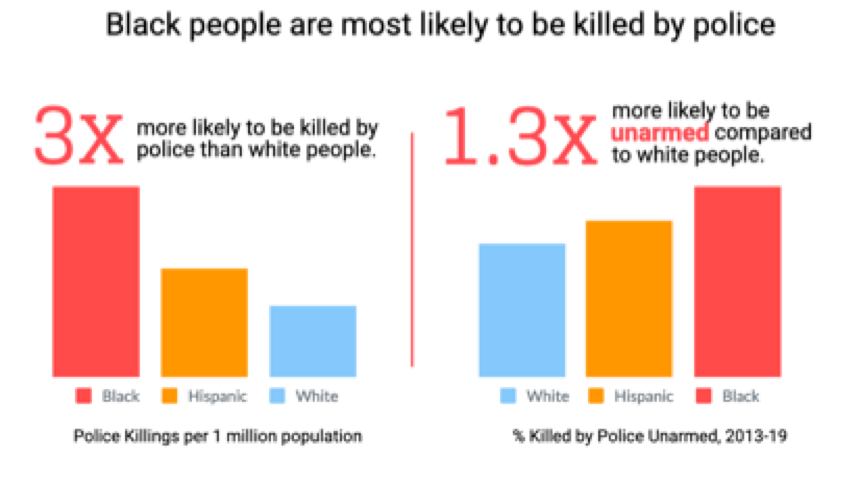 Source: MappingPoliceViolence.org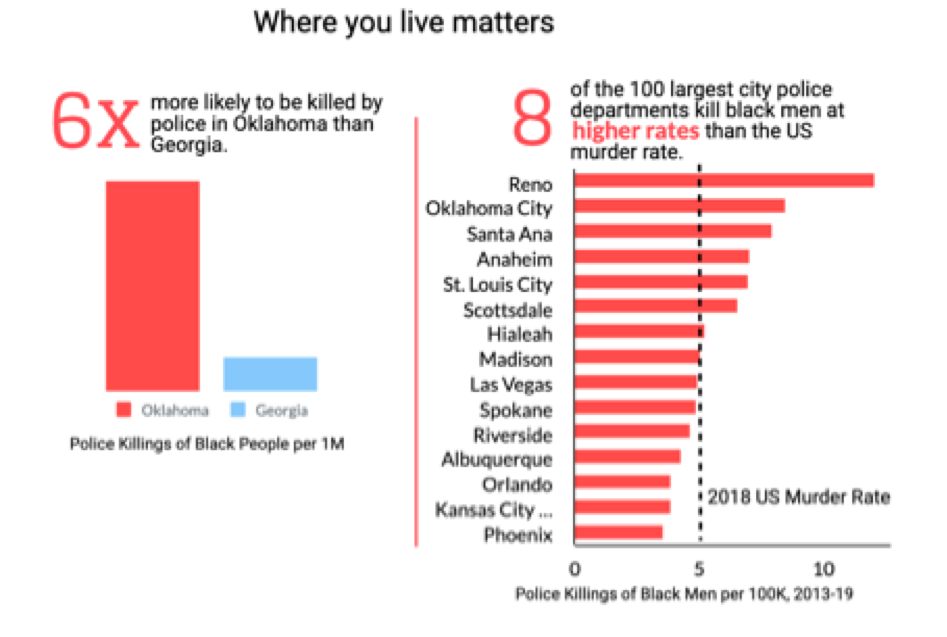 Source: MappingPoliceViolence.org
Source: MappingPoliceViolence.org
The LAPD is a clear example: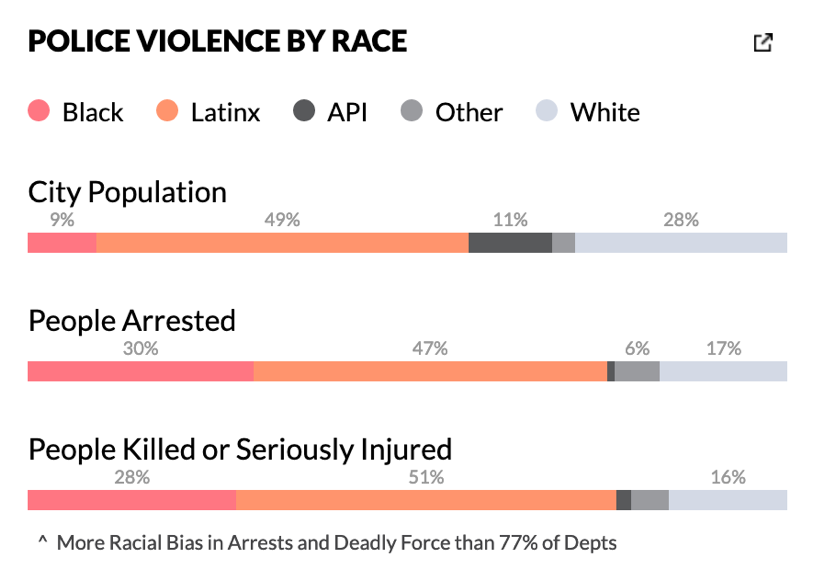 Source: PoliceScorecard.org
What's Next – Acting Local
These events taken on their own, would each be a major national upheaval. Much of what has been described here has been based on information at the national or state level. But the impact is not distributed equally – the fact that racism is a systemic issue does not mean that its impact is diffused evenly across the country. Rather, it is made manifest in essentially an infinite number of ways, where each individual has a hardship, a fear, someone to grieve for. And a neighborhood – a community – is where all of these things come together through shared experience. It is where conversations have to take place, where empathy must flourish and where investments in human potential, health and prosperity must be made.
The best way to identify, address and solve these issues is through facts, through data. And it's not just one set of information, but many datasets, brought together into hyper-dimensional, microtargeted populations, and made available to both public and private actors to support debate and action. There are moments in time, and today is an exemplar, where events make certain issues impossible to ignore. We as a technology community are better equipped than ever before to make sure we as a country – as a collective of communities – advance the idea and the actuality of equality.