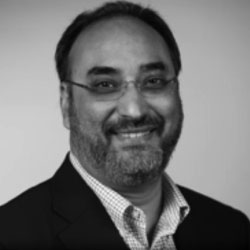 Jaswinder ("Manji") Matharu
Entrepreneur, Technologist, r4 Director
Jaswinder (Manji) Matharu is widely recognized in the telecommunications community as an innovation leader in technology and business process improvement. He was most recently CEO and founder of Agilis International, Inc. a leader in big data and analytics.
Before founding Agilis, Mr. Matharu served in CEO, COO and CTO roles at Sotas, Inc., a high technology company that delivered network monitoring systems. He also served as the President and CEO of Strategic Signaling Systems & Networks (S3Net) before its merger with SOTAS, Inc.
Before founding S3Net, Mr. Matharu was the General Manager of ECTel, Inc. a company providing non-intrusive monitoring and fraud detection systems for the international carrier market. Prior to joining ECTel, he served as Director of Research and Development at Compression Telecom, an ECI Telecom subsidiary.
Mr. Matharu holds a Bachelor's Degree in Electronics and Telecommunications and a Masters Degree in Computer Science from George Washington University, where he also served as an Assistant Professorial Lecturer.