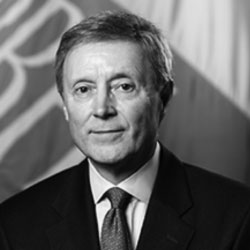 Brown Brothers Harriman, Sr. Advisor, r4 Lead Director
Doug Maine is currently on the boards of Albemarle, and Orbital-ATK (Noble Systems LLC, Anchor Free, Olympusat and is lead director of r4 Technologies. In the last three years, Mr. Maine has led seven successful exits worth over $20 Billion with valuations ranging from 7X -70X.
Mr. Maine is a Senior Advisor to Brown Brothers Harriman and serves as an Executive in Residence for Columbia University's School of Business. He is also on the Dean's Advisory Board for the Schools of Business at Temple University and Hofstra University as well as the Public Company Accounting Oversight Board's Advisory Group (PCAOB).
Mr. Maine was with IBM from serving initially as Sr. VP and Chief Financial Officer and after that General Manager of two business units. He was with MCI (now part of Verizon) serving as Executive VP and Chief Financial Officer his last seven years and before that as President of its Southern and Southwestern Regions business units.
Mr. Maine has an MBA from Hofstra University and a BS from Temple University.